Watch these four safety training videos for free
We've recently produced four COVID-19 safety training videos for massage therapists. You can watch the first one below. 
You can watch the remaining videos and get access to additional resources by registering for FREE access to the digital textbook, Preventing Disease Transmission in a Massage Practice. 
You'll be required to go through a checkout process so that we can assign you login details, but the textbook is $0 and no credit card is required. 
The eight digital chapters that comprise this book boast over 200 images, 20 gamified activities, videos, downloadable resources, and 8 quizzes on an interactive learning platform that ensures content is engaging, organized, and fun. This guide is accessible on any device: desktop, laptop, tablet or mobile.
Chapter 1: An Overview of Disease
Chapter 2: Types of Infectious Agents
Chapter 3: Understanding Disease Transmission
Chapter 4: CDC Standard Precautions
Chapter 5: Maintaining a Clean Massage Workplace
Chapter 6: Professional Hygiene
Chapter 7: Infectious Diseases and Your Massage Practice
Chapter 8: Human Coronaviruses
One of the benefits of a digital textbook is that we can add multimedia elements and update it weekly rather than every five years.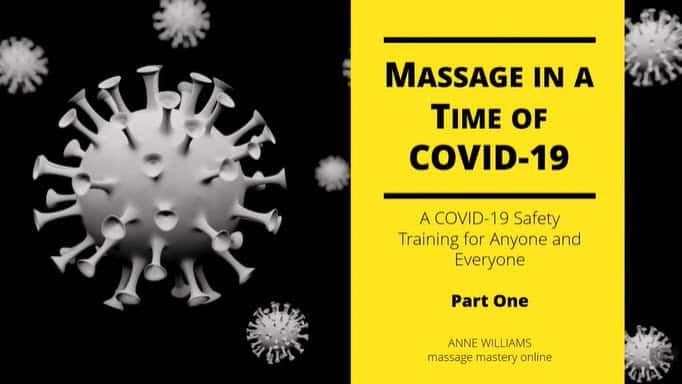 Video 1: Get everyone on the same page about the basics of COVID-19. What is it? How does it spread? How can we reduce spread on the campus?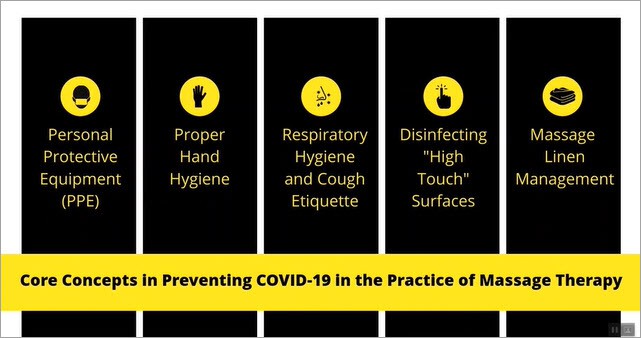 Video 2: We'll discuss using personal protective equipment, proper hand hygiene, respiratory hygiene and cough etiquette, and disinfecting surfaces properly on campus.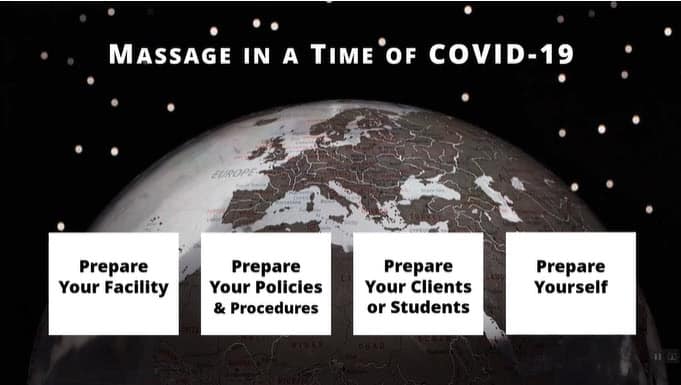 Video 3: Let's prepare the facility for the return of students and clients and discuss new policies and procedures that keep people safe.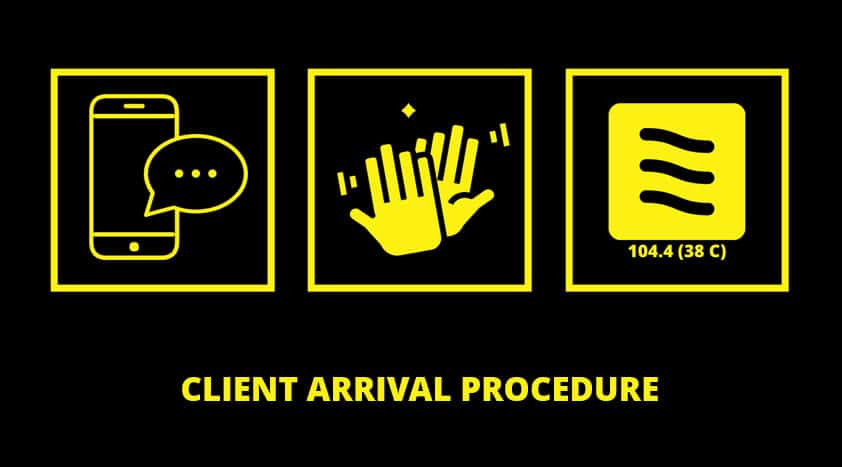 Video 4: We'll work through new client protocols step-by-step during a massage shift, to reduce the potential for disease spread in the student clinic.
Downloadable resources...
These are unbranded, so you can use them as they are or use them as a jumping off point to create your own.
Cleaning Product Supply List

Policy and Procedure Updates Related to Covid-19 Safety (Client/Student Versions)

Covid-19 Information & Consent Form (Client/Student Versions)

Social Distancing Poster

Hand Hygiene Poster

Respiratory Hygiene and Cough Etiquette Poster

Please Sanitize Your Hands Poster

Welcome Back to Massage sample letter: Lets clinic clients know that you are informed and taking every precaution to ensure their safety