For People Serious About Authentic Aromatherapy
An 8-Hour CE Course by Anne Williams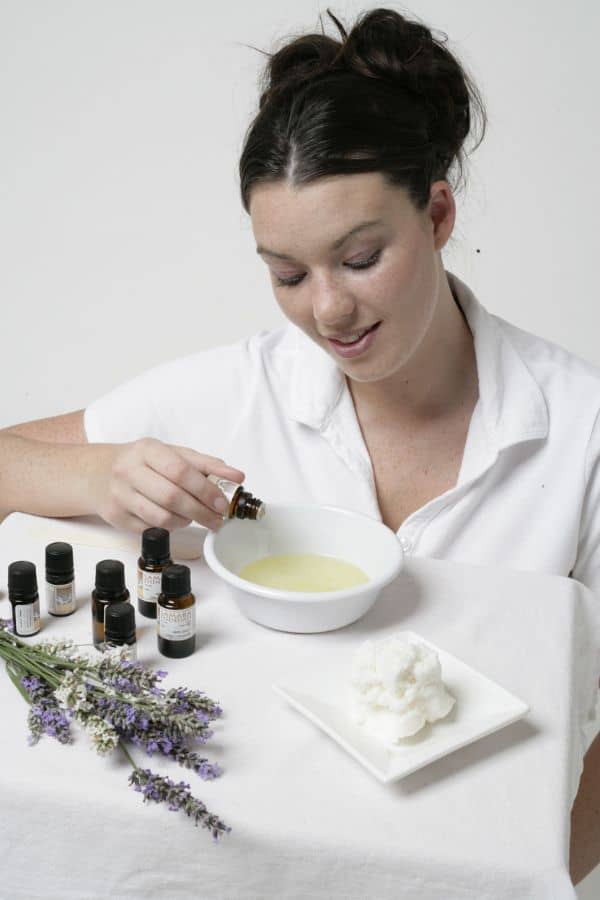 For People Serious About Authentic Aromatherapy (8 CE Hours) by Anne Williams
A search on the Internet will point you towards an overwhelming array of introductory aromatherapy courses where you can learn some fun tips for adding essential oils to your massage lubricants. This course isn't one of those courses.
We've designed Aromatherapy Foundations for massage therapists who are serious about the art and science of aromatherapy. Like learning massage, learning authentic aromatherapy is challenging. So there will be new terminology, some science, and some theory. There will also be lots of fun stuff!
As you learn new ways to support your clients with powerful plant-based methods, you'll feel a rush of satisfaction. Serious MTs want research-informed techniques that prove effective and enhance the benefits of massage therapy.
In her 26 years of practicing, teaching, researching, and writing about essential oils, author Anne Williams has introduced countless massage professionals and students to her comprehensive materials and distinctive approach to aromatherapy. For many massage professionals, aromatherapy becomes their North Star, changing the intended course of their massage careers and inspiring their personal lives and work with clients.
Having completed Lesson 01 (Aromatherapy and Volatile Plant Oils), you will be able to define aromatherapy, describe the production and function of volatile oils in aromatic plants, outline extraction methods and aromatherapy plant products, use botanical names for aromatic plants, avoid synthetics and adulterations, and purchase plant oils from a reputable supplier. 
Having completed Lesson 02 (Get to Know Your Plant Oils), you will be able to identify sources of aromatherapy knowledge, describe the information in the "botany" section of a plant profile, outline the physical characteristics of volatile plant oils, describe precautions, effects, and uses of plant oils, and practice safe aromatherapy. 
Having completed Lesson 03 (Aromatherapy Effects and Benefits), you will be able to describe the process of olfaction and the pathways of volatile plant oils through the body. In addition, you'll recognize the physiological, psychological, and spiritual effects of volatile plant oils and their uses in aromatherapy massage. 
Having completed Lesson 04 (Introduction to Aromatherapy Blending), you will be able to compare and contrast fixed oils with volatile plant oils and other carriers, outline the correct concentrations and dosages for the application of plant oils, create aromatherapy synergies and balance the aromas in a blend. In addition, you'll be able to make base formulations for your friends and family. 
Having completed Lesson 05 (Methods of Application), you will be able to deliver several aromatic inhalations and local topical applications. In addition, you'll be ready to plan a menu of standard aromatherapy massages for your massage clinic or spa. 
Having completed Lesson 06 (Sample Plant Profile for True Lavender), you will be able to review a comprehensive plant profile for true lavender and use the information to create valuable synergies to support friends, family, and clients. 
Visually Stunning: More than 200 images, diagrams, tables, and charts.
Aroma Intensity Scores: The aroma intensity scores for more than 160 volatile plant oils used in aromatherapy. Use this resource to help you achieve balanced aromas in any aromatherapy formula.
Botanical Names Reference: The accepted names and author citations of 216 aromatic plants used in aromatherapy. These are the correct names for species approved by World Flora Online and current as of September 2021.
Botanical Names Flip Cards with Audio Pronunciation: Learn how to correctly pronounce and memorize the names of plants we commonly use in aromatherapy.
Physiological and Psychological Effects Reference: Creating effective aromatherapy synergies is easy with this comprehensive reference providing research-confirmed effects and the volatile plant oils that produce them.
Instant Feedback: Interactive content provides instant feedback on quizzes and learning games, so you never reinforce incorrect information.
Research-Informed: This content is comprehensive and carefully referenced with up-to-date research and information. 
Text Translation: English as a second language? Instantly translate the text into your native language.
Mobile: Access your course on a desktop, laptop, tablet, or phone anywhere you have Internet access.
Glossary: A comprehensive glossary of more than 195 aromatherapy terms supports your learning process.
Category: Aromatherapy
CE Hours: 8
CE Approvals: Approved by NCBTMB, New York, and Florida. Please note this course is NOT approved by Alabama, Arkansas, and Louisiana.
Subscription Period: Ongoing access.
After Purchase: Once you purchase this course, you'll log into massagemastery.online with your email and password. The course will be waiting for you on your dashboard. Click the course access button and follow the directions.
Course Introduction
Lesson 01: Aromatherapy and Volatile Plant Oils 
Defining Aromatherapy
Aromatic Plants and Volatile Oils
Extraction of Volatile Plant Oils
An Introduction to Botanical Plant Names
Apply It! Botanical Names Flash Cards
Avoiding Synthetics and Adulterations
Purchasing and Storing Volatile Plant Oils
Learning Games
Lesson 01 Quiz: Aromatherapy and Volatile Plant Oils
Lesson 02: Get to Know Your Plant Oils
Sources of Information
Plant Profile: Botany
Plant Profile: Physical Characteristics
Plant Profile: Precautions, Effects, and Uses
Safe Aromatherapy
Learning Games
Lesson 02 Quiz: Get to Know Your Plant Oils
Lesson 03: Aromatherapy Effects and Benefits
Olfaction and Learned Odor Responses
Pathways Through the Body
Introduction to Physiological Effects
Introduction to Psychological Effects
Introduction to Spiritual Effects
Learning Games
Lesson 03 Quiz: Aromatherapy Effects and Benefits
Lesson 04: Introduction to Aromatherapy Blending
Fixed Oil Carriers
Other Carriers
Carrier Ingredients to Avoid
Concentration and Dosages
Creating Synergies
Balancing Aromas in a Synergy
Aroma Intensity Reference
Base Formulations and Supplies
Learning Games
Lesson 04 Quiz: Introduction to Aromatherapy Blending
Lesson 05: Methods of Application
Aromatic Inhalations
Topical Applications
Aromatherapy Massage
Learning Games
Lesson 05 Quiz: Methods of Application
Lesson 06: Sample Plant Profile for True Lavender
First Impressions
Botany and Physical Characteristics
Physiological Effects and Indications
Psychological Effects and Indications
Cultural History and Spiritual Indications
Lesson 06 Quiz: Sample Plant Profile for True Lavender
Resources
Course Glossary
Botanical Names of Plants Used in Aromatherapy
Physiological and Psychological Effects Reference
Aromatherapy Supplies
Final Examination