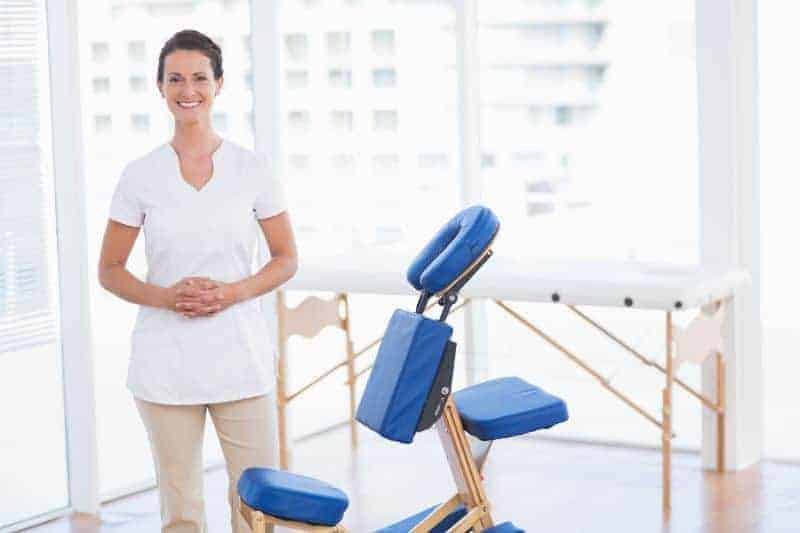 Seated massage (also called chair massage) is a massage applied to a fully clothed client sitting in a specialized chair. Onsite massage refers to massage taken to clients at their businesses or homes, at events, or situated close to businesses they frequent (often called event massage when seated massage is used at an event).
Onsite massage is often delivered in a massage chair although it can also be delivered on a massage table. In recent years, the demand for onsite massage has increased because clients are more aware of the benefits of massage and onsite massage is a convenient way to make massage part of a healthy lifestyle. More massage therapists have onsite seated massage accounts as part of their regular massage practice.
Topic 14-1 introduces the basics of seated massage, while Topic 14-2 demonstrates how to apply massage techniques to a client positioned in a massage chair while fully clothed. Techniques in this chapter describe how to apply massage to a seated client. You will also learn about ways to use seated massage in your massage career.
accounts
compression
event massage
massage chair
onsite massage
pin and stretch
seated massage
Having read the chapter and used the related student learning tools, the student will be able to:
Define the terms seated massage, onsite massage, and event massage.
List three advantages and three disadvantages of seated massage compared to table massage.
Describe environments where seated massage can be offered.
Explain the general benefits of seated massage for employees in workplaces.
Explain the reasons why osteoporosis and previous back injuries or similar conditions require extra caution when clients are in a seated position.
Identify the sanitation and safety measures needed for seated massage onsite.
Describe adaptations that are necessary for using Swedish massage techniques in seated massage.
Compare and contrast the application of rhythmic compression with sustained compression.
Purchase Access to This Textbook