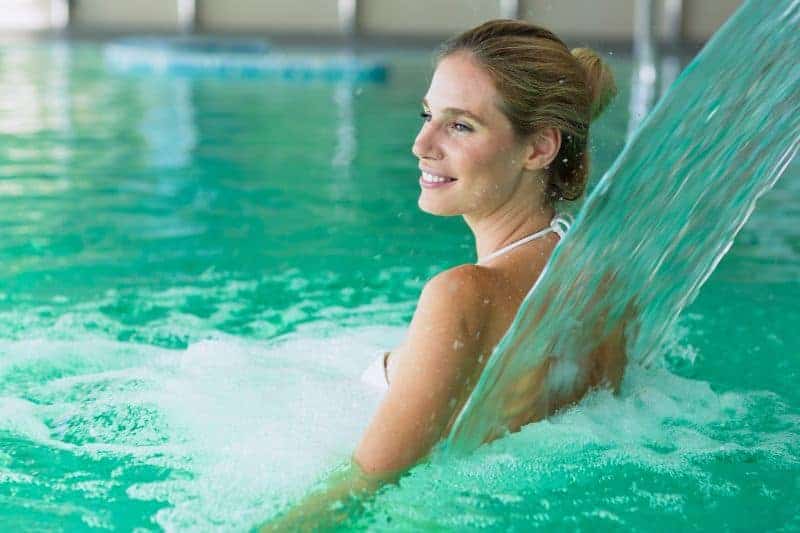 Hydrotherapy is the external use of water for health and wellness. This chapter explores hydrotherapy and its integration with massage in both wellness and health care settings. The effects of hydrotherapy applications are the same even when the focus of sessions in these settings is different. In a wellness setting like a spa or massage practice focused on reducing stress and promoting enjoyment of sessions, hydrotherapy is most often used to relax the body with hydrotherapy baths, showers, and steams and saunas.
In spas, hydrotherapy is also used as part of the beautification process by estheticians. A particular product might be applied to the legs to improve the appearance of cellulite. Specialized water applications like a Swiss shower or Scotch hose might then be used to activate the product or stimulate the skin and circulation as part of the session.
In health care settings, hydrotherapy is applied to support changes needed in the body for the management of a particular pathology or condition, and to rehabilitate musculoskeletal tissue after injury. In a health care setting, a sauna or steam room might be used as part of the client's treatment plan. If a client has a sports injury, ice packs are likely to be applied to the area to reduce inflammation. As the client's injury heals, heat applications might be used to soften scar tissue and improve range of motion as the client returns to full function.
Topic 16-1 identifies the therapeutic characteristics of water that make it useful and beneficial for clients. The physiological, psychological, and reflexive effects of hydrotherapy are explained in Topic 16-2, before hydrotherapy applications are demonstrated in Topic 16-3. Whether you choose to provide wellness massage and relaxation or work in a health care setting providing condition management or injury rehabilitation, you are likely to use hydrotherapy regularly to promote healthy changes in soft tissues. A solid understanding of hydrotherapy principles and application methods is essential to your work as a professional massage therapist.
buoyancy
compress
friction treatments
homeostasis
hydrostatic pressure
hydrotherapy
mechanical effect
pack
paraffin
plaster
reflexive effect
therapeutic bath
therapeutic shower
Having read the chapter and used the related student learning tools, the student will be able to:
Define the term hydrotherapy.
List the characteristics of water that make it useful as a therapeutic application.
Compare and contrast the hydrostatic effects of hydrotherapy applications with the mechanical effects of hydrotherapy applications.
Classify the uses of hydrotherapy as they relate to both wellness and health care environments.
Define the term homeostasis.
Distinguish between the effects of hydrotherapy applications applied close to body temperature and the effects of hydrotherapy applications applied at greater temperature differences.
Distinguish between effects that occur with longer applications of heat and cold and effects that occur with shorter applications of heat and cold.
List the key effects of hot, cold, neutral, and contrasting temperatures.
Identify safety guidelines and sanitary methods of hydrotherapy used in a massage setting.
Discuss three contraindications to cold and hot temperatures.
Explain two methods of applying hydrotherapy applications in either a wellness or health care setting.
Purchase Access to This Textbook