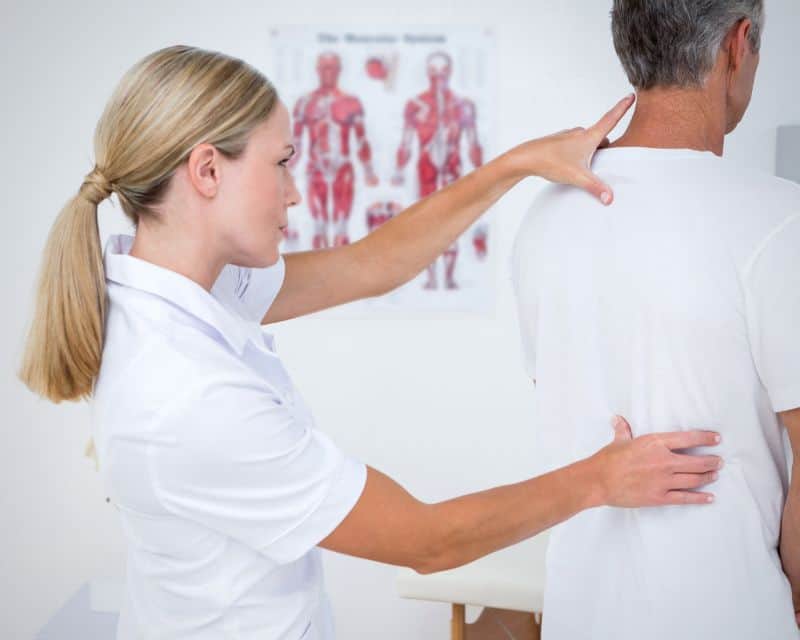 Throughout many chapters, this textbook has differentiated between wellness massage and healthcare massage. Wellness massage is discussed in detail in Chapters 10 and 12. Healthcare massage (also referred to as treatment massage, rehabilitative massage, therapeutic massage, or similar terms) is massage that addresses chronic soft-tissue holding patterns that lead to dysfunction, soft-tissue injury, or chronic pain. Methods used in healthcare massage include advanced assessment procedures and a variety of techniques such as hydrotherapy, myofascial release, deep tissue, and some remedial exercises (e.g., resisted range of motion).
Often, this type of massage is provided in a healthcare setting such as a hospital, chiropractor's office, sports medicine clinic, or physical therapy office, and it may be supervised by a physician, chiropractor, physical therapist, or athletic trainer. Sports massage for athletes is considered healthcare massage because the massage therapist supports the training and recovery process by including goals such as increased flexibility, increased strength, and the prevention of injury.
Healthcare massage also includes massage for clients with an illness other than soft-tissue conditions or who have experienced some physical, mental, or emotional trauma for which they are receiving medical treatment. Massage is often provided in this case for condition management to decrease some symptoms and improve quality of life. Examples include massage in a hospital for cancer patients, massage for patients in a psychiatric ward, and massage for terminally ill patients in a hospice setting. In these cases, a physician or mental health professional develops an overall treatment plan for the patient that includes massage. The massage therapist is supervised to ensure that the techniques used are appropriate for the patient's overall treatment goals.
This chapter introduces assessment procedures, treatment planning processes, and documentation practices that are specific to healthcare massage and builds on the techniques and critical thinking skills described in Chapter 12.
client self-care
functional goals
functional limitations
functional outcomes reporting
gait
hyperkyphosis
hyperlordosis
pain assessment
postural dysfunction
posture
posture assessment
range-of-motion assessment
scoliosis
soft-tissue rehabilitation
Having read the chapter and used the related student learning tools, the student will be able to:
Compare and contrast intake forms and intake interview questions for a wellness massage with those for a healthcare massage.
Compose three functional goals for oneself or classmates acting as clients.
Describe a postsession intake interview specific to healthcare massage.
List two reasons to conduct a pain assessment.
Discuss the relevance of questions in a pain questionnaire.
Distinguish between ideal posture and postural dysfunctions.
Outline the views and boney landmarks used during a posture assessment.
Explain the purpose of active range-of-motion, passive range-of-motion, and resisted range-of-motion assessments.
Outline the stages of health on a continuum.
Describe the phases of soft-tissue rehabilitation.
Construct a treatment plan using evaluation data.
Purchase Access to This Textbook