Essential Boundary Skills In an Ethical Massage Practice
A 4-Hour CE Course by Anne Williams & Eric Brown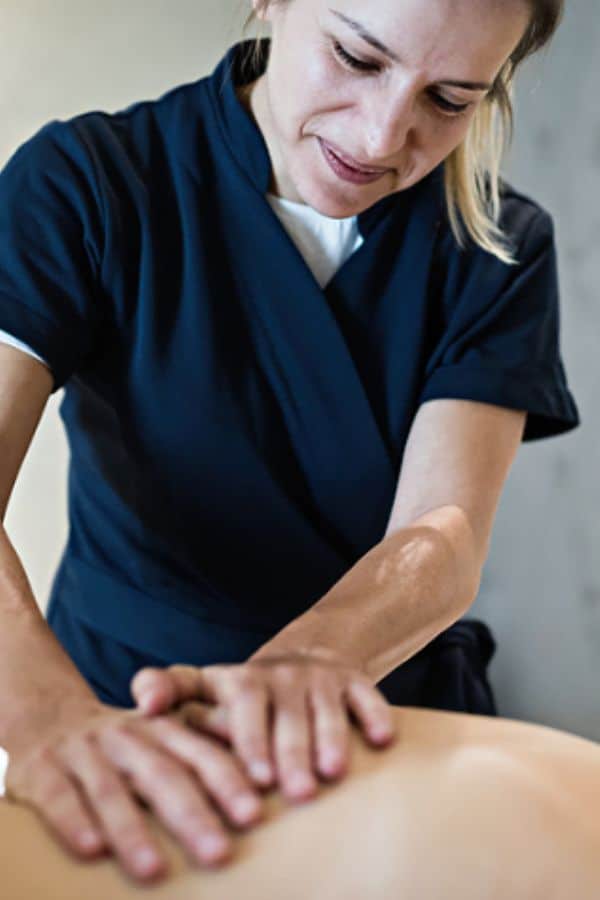 Essential Boundary Skills in an Ethical Massage Practice
A 4-Hour CE Course by Anne Williams & Eric Brown
Most of us are running hard on the over-commitment treadmill. We say "yes" when we want to say "no." We take care of other people's needs while pushing our own dreams aside. We scramble to be loving partners, dutiful children, supportive parents, and caring friends. And when it comes to our massage clients, we're all in and willing to wring our spirits dry to provide one amazing massage session after another. If only it wasn't so exhausting!
Let's take back our lives and our session rooms!
In this massage ethics course, we'll practice healthy boundaries using simple but powerful communication skills. We'll learn to speak our truth without shaming or blaming others. We'll learn easy-to-use methods for establishing and maintaining boundaries respectfully. We'll find that even small changes yield significant results and help us find our way back to balance and to healthier therapeutic relationships.
You'll learn to use the features of therapeutic relationships as a framework for developing healthy interactions with clients.
You'll understand some of the personal factors that influence your ability to establish and maintain boundaries with others.
Identify when your boundaries are being crossed or violated by others and use assertive communication to set limits on how others treat you.
Understand relating styles and adjust your communication style easily and effectively.
Learn simple but effective communication skills that help you speak your truth, establish your boundaries and maintain them, even with challenging people. 
Included in the purchase of this course is the digital textbook, Boundaries: The Foundation of Ethical Massage Practice (regularly $39).
The material in this course is recorded so you can listen to the content while you exercise, take a walk, cook dinner, or relax. 
The thoughtful instructional design of course material organizes contents into carefully sequenced learning chunks. You can finish topics in short study sessions (an average of 20 minutes). The sensation of making regular progress improves learning motivation.
So long as you use Chrome as your browser, therapists with English as a second language can instantly translate the text into their native language, so they never miss a concept.
Concepts come alive with striking imagery and appealing graphic design. 
Standard features like introductions, learning objectives, summaries, references, and resources get a digital upgrade with subtle animations and click-to-view options that invite learners to engage with content they might otherwise skip over.
Clever web navigation puts the entire course content a click away and provides an ongoing outline to help therapists mentally frame the content they are learning.
Learning games strengthen concept comprehension, memory recall, and critical-thinking skills. Games give instant feedback, so therapists never reinforce incorrect information. 
This content is comprehensive and carefully referenced with up-to-date research and information. 
Access your course on a desktop, laptop, tablet, or phone anywhere you have Internet access.
This course, Essential Boundaries Skills in an Ethical Massage Practice, is associated with these other digital products:
Boundaries: The Foundation of Ethical Massage Practice (Digital Textbook). This unique digital textbook, full of video and interactive features, offers a comprehensive discussion on boundaries and is included as part of this CE course. Purchase it separately for $39.
Personal Space & Personal Boundaries in an Ethical Massage Practice (CE Course). Personal space is our conscious and subconscious territory. This territory comprises the physical, sexual, sensory, psychological, and emotional area we inhabit and includes our need for privacy, need for autonomy, and a sense of ownership. Learn to set effective boundaries to protect your personal space. NCBTMB-Approved for 4 CE hours. Purchase this course separately for $49.
Healthy Professional Boundaries in an Ethical Massage Practice (CE Course). Unravel complex client-therapist scenarios using effective behaviors and language to keep sessions on track, even when clients misbehave. Strong professional boundaries make draining workdays a thing of the past and help us derive satisfaction from the good work we do in a profession we love. NCBTMB-Approved for 4 CE hours. Purchase this course separately for $49.
The Boundaries Bundle (Continuing Education Package): This package includes one digital textbook (Boundaries: The Foundation of Ethical Massage Practice) and the three CE Courses described previously worth 12 total hours of NCBTMB-Approved CE for a savings of $60. 
Category: Ethics
CE Hours: 4 CE Hours
CE Approvals:  NCBTMB-approved, accepted in most states, including New York and Florida. Please note this course is NOT approved by Alabama, Arkansas, and Louisiana.
Subscription Period: Ongoing access.
After Purchase: Once you purchase this course, you'll log into massagemastery.online with your email and password. The course will be waiting for you on your dashboard. Click the course access button and follow the directions.
BOUNDARIES – CORE CONCEPTS
Introduction
Learning objectives
Terminology preview
Therapeutic Relationships
Boundary Development
Boundary Types and Forms
Boundary Crossing
Boundary Violations
Apply It! (4 Activities)
Practice Quiz (10 Questions)
 ESSENTIAL BOUNDARY SKILLS
Introduction
Learning objectives
Terminology preview
Understand Relating Styles
Attention to Body Language
Active Listening
Speak Your Truth
Establish and Maintain Boundaries
Respect Other's Boundaries
Apply It! (3 Activities)
Practice Quiz (10 Questions)
 FINAL COURSE EXAMINATION (20 QUESTIONS)